Reading Time:
6
minutes
In this 70-410 Exam Objective, we will cover the principles of planning for a 2012R2 Server installation and the different versions supplied by Microsoft and which version you might want to deploy into your current production environment.
Windows Server 2012R2 Editions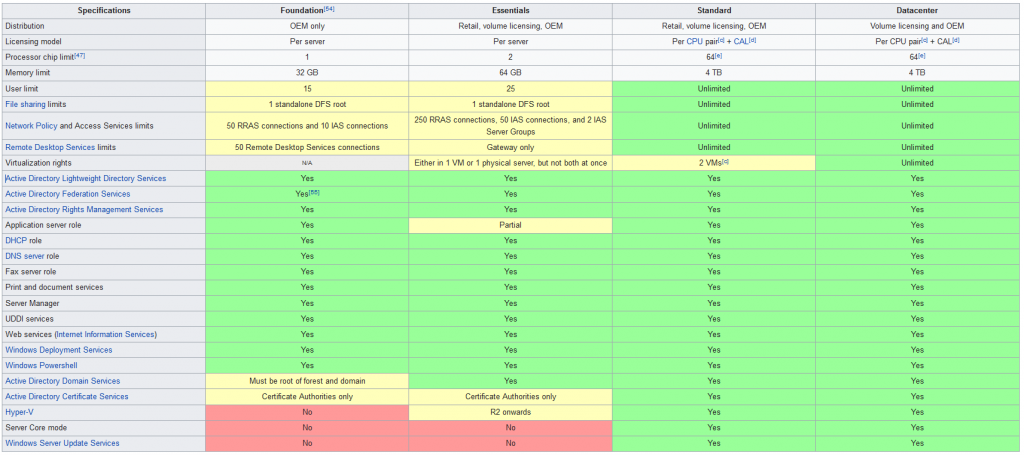 Prior to Windows Server 2012R2, In 2008R2 There were 7 Editions (Datacenter, Entperise, Standard, Web, HPC, Itanium, Foundation) you could deploy as well as Small Business Server (SBS2011) This, however, has been replaced with Windows Server Essentials, Which gives you a Ready to Rock, All in one solution for small businesses who want everything in one box. However, as shown in the graphic above Essentials has a limit of only 25 Users.
When planning a new server there are various things to take into account, especially if you're going to deploy the server as a virtual machine. for example. you need to take into account how many users will be connecting to the server at any given time during the day thus this will , however, how many , cores and memory you assign to this machine – i should add however that when a virtual machine is deployed you have the flexability to change the CPU and memory requirements on the fly and it won't cost you a fortune, providing the underlying hardware can support it.
The Rights for Virtualisation
As shown in the graphic above, this segment will give you a better break down of the virtualisation rights you get with Server 2012R2.
As we have touched on Server 2012R2 has Four editions, however, from a virtualisation licensing standpoint the following applies:
Windows Server Foundation – No Virtualisation Rights – MUST be installed on a physical box
Windows Server Essentials – Either 1 Physical Install or 1 Virtual Instance

Windows Server Standard – 1 Physical Install and 2x Virtual Instances
Windows Server Datacenter – Unlimited Virtual Machines
I Should add that the information provided above is based on the way Microsoft licences Window Server 2012R2 and is not a limitation of the Hyper-V Platform.
To GUI or not to GUi? Is the question

With the advance of the Microsoft Powershell system and the Remote Server Administration Toolkit (RSAT), remotely administering a server has been easier, thus it might mean that for some services within your corporate environment you may choose to deploy server core, as it provides a lesser attack vector as the perpetrator would require the knowledge of CMD or Powershell to navigate. there are also less patches required for a core server, that said you should be aware that not all roles can be deployed on a core server install.
Graphical Server Supported Roles and Features
Active Directory Certificate Services
Certification Authority
Certificate Enrollment Policy Web Service
Certificate Enrollment Web Service
Certification Authority Web Enrollment
Network Device Enrollment Service
Online Responder
Active Directory Domain Services
Active Directory Federation Services
Active Directory Lightweight Directory Services
Active Directory Rights Management Services
Active Directory Rights Management Server
Identity Federation Support
Application Server
.NET Framework 4.5
COM+ Network Access
Distributed Transactions
WS-Atomic Transactions
Incoming Network Transactions
Outgoing Network Transactions
TCP Port Sharing
Web Server (IIS) Support
Windows Process Activation Service Support
HTTP Activation
Message Queuing Activation
Named Pipes Activation
TCP Activation
DHCP Server
DNS Server
Fax Server
File and Storage Services
File and iSCSI Services
File Server
BranchCache for Network Files
Data Deduplication
DFS Namespaces
DFS Replication
File Server Resource Manager
File Server VSS Agent Service
iSCSI Target Server
iSCSI Target Storage Provider (VDS and VSS hardware providers)
Server for NFS
Work Folders
Storage Services
Hyper-V
Network Policy and Access Services
Network Policy Server
Health Registration Authority
Host Credential Authorization Protocol
Print and Document Services
Print Server
Distributed Scan Server
Internet Printing
LPD Service
Remote Access
DirectAccess and VPN (RAS)
Routing
Web Application Proxy
Remote Desktop Services
Remote Desktop Connection Broker
Remote Desktop Gateway
Remote Desktop Licensing
Remote Desktop Session Host
Remote Desktop Virtualization Host
Remote Desktop Web Access
Volume Activation Services
Web Server (IIS)
Web Server
Common HTTP Features
Default Document
Directory Browsing
HTTP Errors
Static Content
HTTP Redirection
WebDAV Publishing
Health and Diagnostics
HTTP Logging
Custom Logging
Logging Tools
ODBC Logging
Request Monitor
Tracing
Performance
Static Content Compression
Dynamic Content Compression
Security
Request Filtering
Basic Authentication
Centralized SSL Certificate Support
Client Certificate Mapping Authentication
Digest Authentication
IIS Client Certificate Mapping Authentication
IP and Domain Restrictions
URL Authorization
Windows Authentication
Application Development
.NET Extensibility 3.5
.NET Extensibility 4.5
Application Initialization
ASP
ASP.NET 3.5
ASP.NET 4.5
CGI
ISAPI Extensions
ISAPI Filters
Server Side Includes
WebSocket Protocol
FTP Server
FTP Service
FTP Extensibility
Management Tools
IIS Management Console
IIS 6 Management Compatibility
IIS 6 Metabase Compatibility
IIS 6 Management Console
IIS 6 Scripting Tools
IIS 6 WMI Compatibility
IIS Management Scripts and Tools
Management Service
Windows Deployment Services
Deployment Server
Transport Server
Windows Server Essentials Experience
Windows Server Update Services
WID Database
WSUS Services
Database
.NET Framework 3.5 Features
.NET Framework 3.5 (includes .NET 2.0 and 3.0)
HTTP Activation
Non-HTTP Activation
.NET Framework 4.5 Features
.NET Framework 4.5
ASP.NET 4.5
WCF Services
HTTP Activation
Message Queuing (MSMQ) Activation
Named Pipe Activation
TCP Activation
TCP Port Sharing
Background Intelligent Transfer Service (BITS)
IIS Server Extension
Compact Server
BitLocker Drive Encryption
BitLocker Network Unlock
BranchCache
Client for NFS
Data Center Bridging
Direct Play
Enhanced Storage
Failover Clustering
Group Policy Management
IIS Hostable Web Core
Ink and Handwriting Services
Internet Printing Client
IP Address Management (IPAM) Server
iSNS Server service
LPR Port Monitor
Management OData IIS Extension
Media Foundation
Message Queuing
Message Queuing Services
Message Queuing Server
Directory Service Integration
HTTP Support
Message Queuing Triggers
Multicasting Support
Routing Service
Message Queuing DCOM Proxy
Multipath I/O
Network Load Balancing
Peer Name Resolution Protocol
Quality Windows Audio Video Experience
RAS Connection Manager Administration Kit (CMAK)
Remote Assistance
Remote Differential Compression
Remote Server Administration Tools
Feature Administration Tools
SMTP Server Tools
BitLocker Drive Encryption Administration Utilities
BitLocker Drive Encryption Tools
BitLocker Recovery Password Viewer
BITS Server Extensions Tools
Failover Clustering Tools
Failover Cluster Management Tools
Failover Cluster Module for Windows PowerShell
Failover Cluster Automation Server
Failover Cluster Command Interface
IP Address Management (IPAM) Client
Network Load Balancing Tools
SNMP Tools
WINS Server Tools
Role Administration Tools
AD DS and AD LDS Tools
Active Directory module for Windows PowerShell
AD DS Tools
Active Directory Administrative Center
AD DS Snap-Ins and Command-Line Tools
Server for NIS Tools [DEPRECATED]
AD LDS Snap-Ins and Command-Line Tools
Hyper-V Management Tools
Hyper-V GUI Management Tools
Hyper-V Module for Windows PowerShell
Remote Desktop Services Tools
Remote Desktop Gateway Tools
Remote Desktop Licensing Diagnoser Tools
Remote Desktop Licensing Tools
Windows Server Update Services Tools
API and PowerShell cmdlets
User Interface Management Console
Active Directory Certificate Services Tools
Certification Authority Management Tools
Online Responder Tools
Active Directory Rights Management Services Tools
DHCP Server Tools
DNS Server Tools
Fax Server Tools
File Services Tools
DFS Management Tools
File Server Resource Manager Tools
Services for Network File System Management Tools
Share and Storage Management Tool
Network Policy and Access Services Tools
Print and Document Services Tools
Remote Access Management Tools
Remote Access GUI and Command-Line Tools
Remote Access module for Windows PowerShell
Volume Activation Tools
Windows Deployment Services Tools
RPC over HTTP Proxy
Simple TCP/IP Services
SMB 1.0/CIFS File Sharing Support
SMB Bandwidth Limit
SMTP Server
SNMP Service
SNMP WMI Provider
Telnet Client
Telnet Server
TFTP Client
User Interfaces and Infrastructure
Graphical Management Tools and Infrastructure
Desktop Experience
Server Graphical Shell
Windows Biometric Framework
Windows Feedback Forwarder
Windows Identity Foundation 3.5
Windows Internal Database
Windows PowerShell
Windows PowerShell 4.0
Windows PowerShell 2.0 Engine
Windows PowerShell Desired State Configuration Service
Windows PowerShell ISE
Windows PowerShell Web Access
Windows Process Activation Service
Process Model
.NET Environment 3.5
Configuration APIs
Windows Search Service
Windows Server Backup
Windows Server Migration Tools
Windows Standards-Based Storage Management
Windows TIFF IFilter
WinRM IIS Extension
WINS Server
Wireless LAN Service
WoW64 Support
XPS Viewer
Core Server Supported Roles and Features
Active Directory Certificate Services
Certification Authority
Certificate Enrollment Policy Web Service
Certificate Enrollment Web Service
Certification Authority Web Enrollment
Network Device Enrollment Service
Online Responder
Active Directory Domain Services
Active Directory Federation Services
Active Directory Lightweight Directory Services
Active Directory Rights Management Services
Active Directory Rights Management Server
Identity Federation Support
Application Server
.NET Framework 4.5
COM+ Network Access
Distributed Transactions
WS-Atomic Transactions
Incoming Network Transactions
Outgoing Network Transactions
TCP Port Sharing
Web Server (IIS) Support
Windows Process Activation Service Support
HTTP Activation
Message Queuing Activation
Named Pipes Activation
TCP Activation
DHCP Server
DNS Server
Fax Server
File and Storage Services
File and iSCSI Services
File Server
BranchCache for Network Files
Data Deduplication
DFS Namespaces
DFS Replication
File Server Resource Manager
File Server VSS Agent Service
iSCSI Target Server
iSCSI Target Storage Provider (VDS and VSS hardware providers)
Server for NFS
Work Folders
Storage Services
Hyper-V
Network Policy and Access Services
Network Policy Server
Health Registration Authority
Host Credential Authorization Protocol
Print and Document Services
Print Server
Distributed Scan Server
Internet Printing
LPD Service
Remote Access
DirectAccess and VPN (RAS)
Routing
Web Application Proxy
Remote Desktop Services
Remote Desktop Connection Broker
Remote Desktop Gateway
Remote Desktop Licensing
Remote Desktop Session Host
Remote Desktop Virtualization Host
Remote Desktop Web Access
Volume Activation Services
Web Server (IIS)
Web Server
Common HTTP Features
Default Document
Directory Browsing
HTTP Errors
Static Content
HTTP Redirection
WebDAV Publishing
Health and Diagnostics
HTTP Logging
Custom Logging
Logging Tools
ODBC Logging
Request Monitor
Tracing
Performance
Static Content Compression
Dynamic Content Compression
Security
Request Filtering
Basic Authentication
Centralized SSL Certificate Support
Client Certificate Mapping Authentication
Digest Authentication
IIS Client Certificate Mapping Authentication
IP and Domain Restrictions
URL Authorization
Windows Authentication
Application Development
.NET Extensibility 3.5
.NET Extensibility 4.5
Application Initialization
ASP
ASP.NET 3.5
ASP.NET 4.5
CGI
ISAPI Extensions
ISAPI Filters
Server Side Includes
WebSocket Protocol
FTP Server
FTP Service
FTP Extensibility
Management Tools
IIS Management Console
IIS 6 Management Compatibility
IIS 6 Metabase Compatibility
IIS 6 Management Console
IIS 6 Scripting Tools
IIS 6 WMI Compatibility
IIS Management Scripts and Tools
Management Service
Windows Deployment Services
Deployment Server
Transport Server
Windows Server Essentials Experience
Windows Server Update Services
WID Database
WSUS Services
Database
.NET Framework 3.5 Features
.NET Framework 3.5 (includes .NET 2.0 and 3.0)
HTTP Activation
Non-HTTP Activation
.NET Framework 4.5 Features
.NET Framework 4.5
ASP.NET 4.5
WCF Services
HTTP Activation
Message Queuing (MSMQ) Activation
Named Pipe Activation
TCP Activation
TCP Port Sharing
Background Intelligent Transfer Service (BITS)
IIS Server Extension
Compact Server
BitLocker Drive Encryption
BitLocker Network Unlock
BranchCache
Client for NFS
Data Center Bridging
Direct Play
Enhanced Storage
Failover Clustering
Group Policy Management
IIS Hostable Web Core
Ink and Handwriting Services
Internet Printing Client
IP Address Management (IPAM) Server
iSNS Server service
LPR Port Monitor
Management OData IIS Extension
Media Foundation
Message Queuing
Message Queuing Services
Message Queuing Server
Directory Service Integration
HTTP Support
Message Queuing Triggers
Multicasting Support
Routing Service
Message Queuing DCOM Proxy
Multipath I/O
Network Load Balancing
Peer Name Resolution Protocol
Quality Windows Audio Video Experience
RAS Connection Manager Administration Kit (CMAK)
Remote Assistance
Remote Differential Compression
Remote Server Administration Tools
Feature Administration Tools
SMTP Server Tools
BitLocker Drive Encryption Administration Utilities
BitLocker Drive Encryption Tools
BitLocker Recovery Password Viewer
BITS Server Extensions Tools
Failover Clustering Tools
Failover Cluster Management Tools
Failover Cluster Module for Windows PowerShell
Failover Cluster Automation Server
Failover Cluster Command Interface
IP Address Management (IPAM) Client
Network Load Balancing Tools
SNMP Tools
WINS Server Tools
Role Administration Tools
AD DS and AD LDS Tools
Active Directory module for Windows PowerShell
AD DS Tools
Active Directory Administrative Center
AD DS Snap-Ins and Command-Line Tools
Server for NIS Tools [DEPRECATED]
AD LDS Snap-Ins and Command-Line Tools
Hyper-V Management Tools
Hyper-V GUI Management Tools
Hyper-V Module for Windows PowerShell
Remote Desktop Services Tools
Remote Desktop Gateway Tools
Remote Desktop Licensing Diagnoser Tools
Remote Desktop Licensing Tools
Windows Server Update Services Tools
API and PowerShell cmdlets
User Interface Management Console
Active Directory Certificate Services Tools
Certification Authority Management Tools
Online Responder Tools
Active Directory Rights Management Services Tools
DHCP Server Tools
DNS Server Tools
Fax Server Tools
File Services Tools
DFS Management Tools
File Server Resource Manager Tools
Services for Network File System Management Tools
Share and Storage Management Tool
Network Policy and Access Services Tools
Print and Document Services Tools
Remote Access Management Tools
Remote Access GUI and Command-Line Tools
Remote Access module for Windows PowerShell
Volume Activation Tools
Windows Deployment Services Tools
RPC over HTTP Proxy
Simple TCP/IP Services
SMB 1.0/CIFS File Sharing Support
SMB Bandwidth Limit
SMTP Server
SNMP Service
SNMP WMI Provider
Telnet Client
Telnet Server
TFTP Client
User Interfaces and Infrastructure
Graphical Management Tools and Infrastructure
Desktop Experience
Server Graphical Shell
Windows Biometric Framework
Windows Feedback Forwarder
Windows Identity Foundation 3.5
Windows Internal Database
Windows PowerShell
Windows PowerShell 4.0
Windows PowerShell 2.0 Engine
Windows PowerShell Desired State Configuration Service
Windows PowerShell ISE
Windows PowerShell Web Access
Windows Process Activation Service
Process Model
.NET Environment 3.5
Configuration APIs
Windows Search Service
Windows Server Backup
Windows Server Migration Tools
Windows Standards-Based Storage Management
Windows TIFF IFilter
WinRM IIS Extension
WINS Server
Wireless LAN Service
WoW64 Support
XPS Viewer